The Grapetree Area Property Owners Association Inc., GAPOA, helps owners with neighborhood issues including road maintenance, beach cleanup, and development management. GAPOA is funded by the annual assessments from members representing over three hundred properties within the Association. GAPOA is managed by an all volunteer group of member elected property owners.
The purpose of GAPOA and it's collection of assessments is to maintain the roads and beaches, represent the property owners interests, and to uphold the covenants and restrictions applicable to the five estates of North Slob, North Grapetree, South Slob, South Grapetree, and Turner Hole. GAPOA promotes neighbors coming together to share the enjoyment of owning property in America's easternmost paradise!
Please help us make our neighborhood great by paying your GAPOA assessment on time, volunteering to serve, and working with your neighbors to improve your piece of paradise. Your participation as a member of our association makes our east end St. Croix community great!
Instructions on how to pay your 2015 assessment
Update your contact information
Volunteer your time and talent
Read the handouts from our most recent meetings
Download architectural review forms
Contact a volunteer officer, director, or member
U.S. Virgin Islands -East End Marine Park, St. Croix on The Nature Conservancy
Virgin Islands Nature Conservatory 
Annual Home Owner Association News Update 2016
This years Meeting was held on January 16th and we will post updates from the President on the meeting outcomes but we have a letter from John Roberts that we wanted to share.
THANKS, BOB!                                                                                 1/17/16
Yesterday, Bob Carlin (102 SGB) resigned from the Board of Directors of our homeowners' association, after 4 years on the Board and 8 years previously serving the Board and its members. In all of my 79 years I have never known anyone who did more to help a group of homeowners than Bob. He has been an absolute treasure, and I'd be willing to bet that his contributions to the group are not over.
John Roberts
GRAPETREE AREA PROPERTY OWNERS ASSOCIATION, INC.
"GAPOA"
2015  PRESIDENT'S REPORT
I hope 2015 was a good year for all and this letter finds you in good health and good spirits. This year's Annual Meeting is scheduled for January 16, 2016, 4 PM at the St Croix Yacht Club. Light food will be provided and a cash bar available prior to and during the meeting.
In my March 2015 Report I stated the affairs of the Association were being effectively managed by your Board and its financial position was improving. Today I am pleased to report that your Association is even stronger and is positioned well to execute our 2016 plans to improve the roadways, enhance our web site, increase our collection activity and to continue to advance our automated record retention plans. Our revenues are above budget by over $20,000 and our expenses are below budget by over $20,000, giving the Association a $40,000 cash surplus vs. budget as of November 2015. Revenue was over budget primarily due to the Board's execution of a more aggressive collection plan and expenses were under budget due to reduced property taxes and lower brush cutting cost.
Our roadways held up nicely this year due in part to the lower rain fall, causing less erosion and less vegetation growth and also in part by the Board's management of the roadway improvements over the past several years. New estate signage was added this year that should help emergency vehicles better find property locations. The Board request that all members that do not have their plot number posted on their home to please do so. More road paving is planned for 2016.
We had success in reducing our assessed values on our five tax bills for road and drainage plot that the Association owns, creating an annual tax savings of over $2100. The Association also received a refund on the over payment of 2013 taxes.
The execution of our 2015 collection plan resulted in exceeding goal by over $20,000. New liens were placed on twelve past-due members this year after all efforts to collect failed. Our goal is to exhaust all collection avenues prior to seeking legal action. We need better contact information on our past due members to help us resolve these issues.
The new Web Site was launched in May 2015. The new platform will allow the Board to better manage the content and to provide more useful information to our members. Please visit the Site for more information about GAPOA at www.gapoa.com. You can update your contact information on line including your address, email and phone number which will allow the Board to effectively communicate with you.
Enclosed in this Annual Meeting Announcement packet is the 2016 Meeting Agenda, 2015 Annual Meeting Minutes, 2016 proposed Board of Directors Slate, Invoice for the 2016 assessment, Proxy Form to be completed if you cannot attend the meeting naming any Member, Officer or Board Member to vote your proxy, and a RSVP form with a request to update your contact information. Please complete the required forms and return with your $300 annual assessment.
To be eligible to vote at the Annual Meeting members must be current on their 2015 assessments. For those members that are past due and would like to discuss resolution with me please call me at 860-326-9548.
We have a couple of Board slots open for 2016 and will be soliciting members at the annual meeting to join the Board.   We need your help and voice to continue the good work of the Association. Please consider volunteering. You will enjoy it and it takes little personal time.
Hope to see a big turnout for a fun evening at the Annual meeting.
Yours Truly,
James E Pedrick
President
Beach Cleanup October 22, 2016 9 AM
PLEASE JOIN THE GLOBAL EFFORT FOR TRASH FREE SEAS & SHORES AND HELP US CLEAN OUR GAPOA BEACHES!

Road Committee
2016 March 11, 2016 UPDATE ROAD PAVING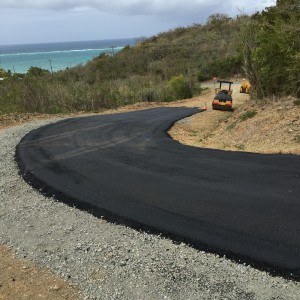 Here is a photo of the EROSION MITIGATION improvements at the west end of Ridge Road.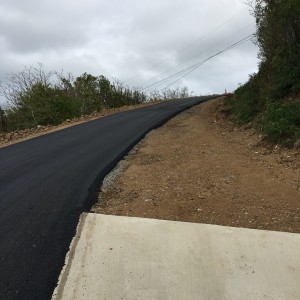 It  included earthen swale improvements along with a new apron (and spillway) at 29J North Slob and new asphalt with base.
As a result, extensive grading required annually should be eliminated and emergency response times will no longer be impacted.
This was just one of the many roads seeing improvement in 2016.
2016 February 13 ROAD PAVING ANNOUNCEMENT
Road paving and grading could start as early as February 22, 2016.
The entire process should take 7 to 10 days.  This year's paving is one of the largest GAPOA has undertaken.  The following roads will be paved:
Ridge Road East        850′ x 14′
Ridge Road West       400′ x 14′
Hummingbird Road     750′ x 12′
Hill Top Circle Spur     125′ x 17′
These roads will be closed while paving is taking place so plan for an alternate route.
While you can drive on  the new paving, it take 3 to 4 days to cure so drive carefully the first few days.  Should you have any questions about road maintenance call or email the Roads Chairperson GB Bucknell at — — —-  pirate29p@gmail.com
2015 GRADING AND REPAVING COMPLETE
Road grading and asphalt recapping for 2015 has been completed. This year, we furthered continuing maintenance of S. Ridge Road (adjacent to the casino) by diverting stormwater runoff into the adjacent engineered silt gut. This has resulted in diminished silting of both Southshore Road and Fisherman's Bay. Thanks to Rob B. who has championed this long-standing issue.
Additional concentration was focused on our many drainage culverts along our paved and unpaved roadway system.
Asphalt recapping saw a modest price reduction this year due to declining oil prices. While oil is not directly a product within the asphalt itself, cost reductions are realized in the drying of the aggregate (stone), manufacture of the asphalt, and the cost to transport the material.
Recapping and pothole repair this year consisted of:
– First 155' (off main road) and potholes on TURNER HOLE ROAD
– 245' section of SOUTH RIDGE ROAD
– 275' section and potholes on SOUTH GRAPETREE BAY ROAD
– Road patching and potholes on IGUANA WAY
Your GAPOA Road Committee is committed to providing exceptional access and maintenance to the nearly 7 miles of Association roadways.
Please report any road maintenance issues or concerns to Bob Carlin, Road Committee Chairman at bc4stx@msn.com
BOARD APPROVES INTERIM BRUSH TRIMMING
The 2015 Board of Directors has approved an increase to the brushcutting budget to provide for 4 interim brush trimmings/clean-ups.
The proposed brush trimmings are in addition to the normal 2 roadway brushcuttings annually conducted by the Association.
The interim brush trimmings shall be scheduled along with and in between the normal cuttings, and be concentrated on identified "hotspots" along our roadway system.
These "hotspots" include the areas around road name and stop signs, blind corners, stormwater drainage infrastructure and "sensitive-designated" areas.
Currently, one (of the 4 approved) brush trimming/clean-ups has been utilized in conjunction with the first roadway brushcuttings with great success.
While not only facilitating this first brushcutting, the clean-up (post cutting) greatly reduced the negative impacts from roadway debris.
Interim trimming shall be scheduled on an "as-needed" basis and will depend on rain amounts and foliage conditions.
If you see roadways that need addressing or have areas of concern, please contact Bob Carlin, Road Committee Chairman, at bc4stx@msn.com.
BOARD APPROVES NEW ESTATE SIGNAGE
In the ongoing effort to reduce emergency response times, your Board of Directors have approved the installation of signage identifying the boundaries of our five Estates.
As plots in different Estates have similar numbers, identifying Estate parameters is important when attempting to locate individual plots. In addition, with only "North" and "South" differentiations, the ability to identify ones' location becomes all the more important.
As such, your Board has budgeted for and approved the installation of (10) 12" x 18" reflective Estate name signs. The cost is estimated at $1,250.